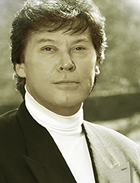 has enjoyed a rewarding career in the visual arts. His work has been featured in magazines and news articles, he has designed for numerous clientele including General Electric, Dupont Corporation, the National Park Service, and he has painted a commissioned portrait of renowned American actor Robert Duvall. (A reproduction of the portrait is shown at the bottom of this page.) In his earlier years of commercial design, Wine was awarded honors from Print magazine, a highly acclaimed publication of international importance in the field of graphic design. Some of his works are included within the corporate collections of the Toyota Corporation and the Jack Kent Cooke Foundation.

A multi-faceted painter, Wine is not content to paint in one style. Although the majority of his work consists of land and waterscapes rendered with a soft, impressionistic touch, he is quite adept at a number of other genres...

"Americana", a look back at America in her earlier years, is painted with carefully composed and well executed elements that take us for a delightful journey into the yesteryear of our country. These are meticulous, pain-staking works that incorporate 250 to 300 hours to complete. The works are described by many as "delightful" and "a dance for the eye". These works are reproduced by various companies for puzzles and calendars.

Closely aligned with these works, in feeling, is another form of painting by this artist that he entitles, "folk" or "primitive". This particular style is also a look back at America's younger days, yet is looser in technique and deemed by the artist to be "akin to the art of Grandma Moses."

Additional works by this artist include "razor sharp imagery" portraying beautiful and tropical scenes of this country and foreign lands. These art deco styled artworks contain colorful and well placed elements ranging from graphic palm trees to sets of golf clubs lying upon polished, tiled floors. A small gecko is contained upon some of these canvases wearing a necklace that bears the initial "J", referring to his son, Jonathan. (Jonathan's presence is also noted in nearly all of the Americana works.)

The artist also paints abstract forms. In the early stages of this genre, his commercial and graphic design background is evident, due to the geometric objects placed carefully upon the canvas. To contact the artist, Click Here.